Best air cooler under 5000 Rs in India [Summer 2020]
Temperature seems to be rising as we are approaching the summer.
How do we keep ourselves cool without leaving a hole in our pocket?
You won't get a descent cooling solution for a budget as low as 1000 or 2000 Rs.
In this article we are reviewing list of Best air cooler under 5000 Rs that you should bring home this summer.
If budget is not a constrain and air conditioner is not your preference.
You may check our reviews on air cooler under 7000 Rs, cooler under 8000.
Comparatively there are less air cooler you can trust under a budget of Rupees 5000.
Let Dive into our list..
Best Air Cooler Under 5000 Rs in India
Orient Electric Smartcool DX CP1601H Air Cooler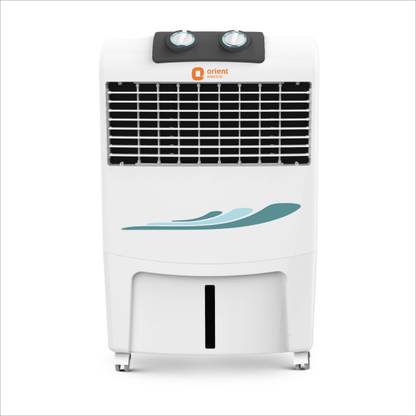 Starting our list with Orient Air cooler which comes with a water capacity of 16 liters.
This cooler uses honeycomb pad as cooling media which offers superior cooling performance.
Thanks to the DenseNest Technology which helps the cooler to retain more water for better cooling experience.
We were able to move it to any part of room which was making it possible for the air to reach any corner.
With a power consumption of around 140 W it was covering almost 150 to 170 sq.ft area.
The dust filter keeps the air dust free, additionally the ice chamber allows you to put ice cubes.
Overall an Air cooler with the specs which you may hardly find in any Best air cooler under 5000 Rupees.
Kenstar Little Remote Air Cooler
Another known brand which we can suggest is Kenstar air coolers with a capacity of 16 liters.
The air cooler can be operated on remote, as well as manually.
It comes with 3 speed settings with a maximum air throw speed upto 32 cft.
Ice chambers allows you to add ice which increase the cooling efficiency of the air cooler.
The wheels allow you to move the air cooler smoothly which can't be operated by remote.
Made of good quality plastic which is durable and easy to clean.
Overall if you are keen to buy a branded air cooler with less budget, than you may check this out.
Usha Atomaria Room/Personal Air Cooler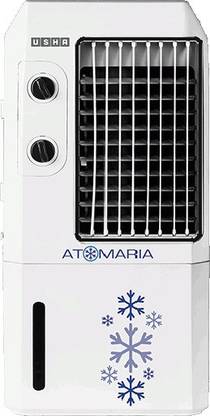 Starting our list is with Usha Air cooler under 5000 Rs which is available online on flipkart.
The air cooler features 2 side honeycomb cooling medium for optimum cooling 3 speed levels.
Available dust filters prevent the dust from getting in the air cooler.
It has a water capacity of 9 liters, with power consumption of 9 Watts.w
The air cooler has 3 speed settings, which can easily cool an area up to 110 sq.ft.
Best thing about this air cooler is it's compatibility to work on Inverter when out of power supply.
Overall it is one of the branded air cooler under 5000 Rs which you can opt for.
Flipkart SmartBuy Breeze Personal Air Cooler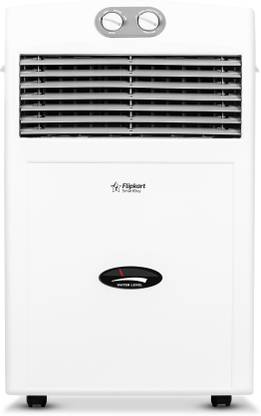 Flipkart branded air cooler is next in our list of best air cooler under 5k Rupees exclusively available on flipkart.
With a water capacity of 19 liters which can blow air upto 25 ft cooling maximum area.
About 150 to 160 sq.ft of area can be easily covered, that to by consuming less power i.e 165 W.
Equipped with honeycomb pad which quickly and effectively cools your room.
The cooler also has in built ice chamber which allows you to store ice for better cooling experience.
Other thing we noticed is it's air deflection feature which ensures even distribution of air.
We don' t find any more air cooler worth to be listed in our list of Best air coolers under 5000 Rs.
As mentioned only few genuine coolers are available in this price list.
Now I would like to know from you.
Do you know any air cooler available below 5000 Rupees in India.
Or you have any question related to the air cooler mentioned in the above list.
Let us known in the comment section below.