Best Trimmer under 1500 Rs for Perfect Facial Hair
Every Man these days are trying out beard look to stand out from the normal crowd of clean shaved Guys.
To get a attractive beard look you should invest in getting the best quality trimmers that maintains the beard decently.
I started to use trimmer coz shaving was time consuming and it gives a clean shave look which i don't like.
Hence I started researching to find a budget trimmer to keep a light beard look.
In my research of 2 weeks I came across trimmers which are good for long Beard, while some are good with stubble beard look.
To help you out I have listed it in our list of Best Trimmers under 1500 Rupees.
Let Dive in to the list..
Best Trimmers under 1500 Rs in India
1. Mi Beard [Trimmer under 1500 Rs]
TODAY'S PRICE ON:
Mi enters in to the grooming industry with this beard trimmer which is 1st in our list of best trimmer under 1500 Rupees.
Its a beard trimmer which can be used corded and cordless.
The blades are made of best quality self sharpening stainless blades.
The trimmer reaches tough spots with its Unique quad edge design.
It features 40 length settings with cutting length of 0.5 mm to 20 mm.
A one time charge of 2 hr can provide 90 min of cordless usage.
You can easily wash it in a running tap as the trimmer is water resistant.
Specifications
Brand
MI
Model
XXQ01HM
Weight
213 g
Usage / Charging Time
90 min / 2 hr
Cutting Length
0.5-20 mm
Blades
Stainless steel
2. Philips QT4011/15 [Beard Trimmer Slightly above 1500 Rs]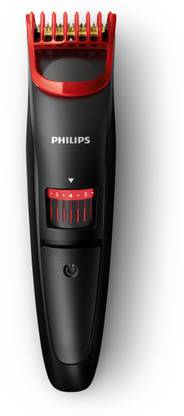 TODAY'S PRICE ON:
Philips is one of the most trusted brand when it comes to quality product.
It is one of the Best trimmer just around 1500 Rs range which gives you a long battery life of up to 90 min.
It allows you to adjust the cutting length from 0.5 mm to 10 mm.
The titanium blades are self sharpening to give an attractive cut.
This is best for stubble & long beard look.
Specifications
Brand
Philips
Model
QT4011/15
Weight
340 g
Usage / Charging Time
90 min / 1 hr
Cutting Length
0.5-10 mm
Blades
Titanium blades
USER REVIEW : Read Full Review
Related: 2000 Rs Beard Trimmer in India
3. Syska HT3052K/02 Trimmer available under 1500 Rs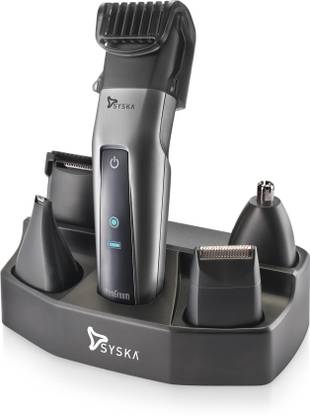 TODAY'S PRICE ON:
Next in our list is trimmer which covers trimming from head, nose, mustache and ears.
This trimmer from Syska comes with multiple heads which take care of all your trimming needs.
It has good battery back which can survive up to 50 min in a single charge of 1 hr.
The blades are self sharpening which are made of stainless stell.
It features cutting length from 1mm to 10mm with 10 length settings.
Specifications
Brand
Syska
Model
HT3052K/02
Weight
399 g
Usage / Charging Time
50 min / 1 hr
Cutting Length
1 – 10 mm
Blades
Stainless steel
USER REVIEW : Read Full Review
Check: Buying Guide Best Beard Trimmer in India
4. Ustraa Black 200 Trimmer withing Rs 1500

TODAY'S PRICE ON:
It might be new to some of you, but in a limited time the brand has been famous under this segment.
The trimmer can be used corded or with out cords as with a single charge gives 120 mins.
It has self sharpening titanium coated blade which are 39% wider than other trimmers.
Thanks to quick charging technology the trimmer gets full charged in 60 mins.
The trimmer is currently available under 1500 Rs, however some days it goes above this price.
Specifications
Brand
Ustraa
Model
Black 200
Weight
499 g
Usage / Charging Time
90 – 120 min / 60 min
Cutting Length
0.25 m – 4 mm
Blades
Titanium Coated
USER REVIEW : Read Full Review
Looking for Low budget trimmer check this out:
Beard Trimmers Under 1000 Rs in India
5. Beardo PR3058 Trimmer for Body Grooming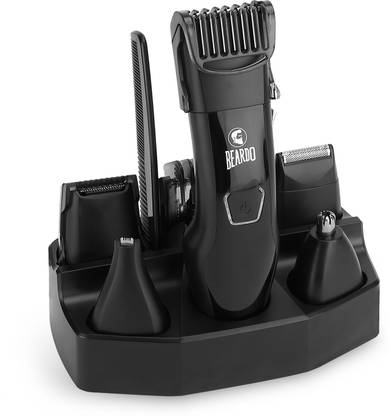 TODAY'S PRICE ON:
From the company which expertise on complete range of men grooming products like hair, beard, mustache, skin & face.
The trimmer charges were quickly in 60 minutes which gives continuous trimming for 45 mins.
It support use for Body Grooming, Beard & Moustache, Nose, Ear & Eyebrow.
At the price it's giving tough competition to brands like Philips & MI.
The trimmer has a precision of 0.5 mm to 10 mm with 21 length settings is Value for Money.
The product also has a warranty period of up to 2 years.
USER REVIEW : Read Full Review
OUR SUGGESTION
If you are looking for beard trimming than Philips & MI is what you should go for.
In case if your priority is body grooming than Beardo Trimmer won't disappoint you.
CONCLUSION
Hope our list of best trimmer under 1500 Rs was helpful.
Now it is your turn.
Which of these trimmer you are going to buy?
Or you have your personal suggestion which is missed out from the list.
Either ways, Do let me know in the comment section Below.
We will glad to know about it.