6 Best Power Bank in India | Editors Choice 2020
Your Buying Guide for finding the Best Power Bank in India at the best Price.
More the smartphone features the more is the battery consumption and that's why this review on Best power banks in India is what you should not be missing out .
When it comes to Power Bank, there are lots of option available online starting from the cheap Chinese brands (not recommended) to fast charging power bank or one with a capacity of 10000mah power bank / 20000mah power bank.
So which power Bank should you buy?
For people who are under budget, and don't want to spend much. We recommend them to check these articles on:
Let's make it easier.
We have spend almost 13 days to research and check user reviews to find out the Best Power Banks in India for 2020.
These are the key features we looked in a Power Bank while listing the Best for you.
Portability: to carry any where
Price: Go for a branded power bank even though its bit expensive to keep your mobile safe and better performance.
Certification: Check for the UL OR BIS certification
Capacity: Higher end power banks can charge almost any type of devices, from laptops, iPads, tablets and smart phones.
Best Power Bank in India 2020
Mi doesn't require any introduction to all of us. One of the best smartphone manufacturer in the world and No.1 in India have expanded their reach by introducing Mi Power Banks.
Compatible with many device, intelligently adjust power output to match other gadget requirement are few of many notable feature.
MAIN FEATURES
The Power bank has an innovative design, excellent quality & high output capacity which makes it one of the best power bank in India with fast charging.
Mi Power bank features durability.scratch and slip resistance
Dual input ports (Micro-USB/USB-C) and Dual USB Output with smart charging ensures effective charging.
The capacity of the power bank is 20000 mAh & comes with high-density advanced Li-polymer batteries.
PROS

👍
Stylish and Premium Design
Lower power mode for low power device
CONS 👎
Only 2 colors Black / White
Ambrane 20000 mAh Power Bank
The Company was established in year 2012 which manufactures product like Power banks, Earphones, Headphones, Speakers, USB Cables and Chargers.
Ambrane was the 1st Brand to sell Power banks in India Which Became India's No. 1 Power bank brand in 2014.
MAIN FEATURES
Highly efficient this Ambrane Power bank comes with 20000 mAh lithium polymer batteries.
Know the Battery status with the feature touch button located on the top of power bank.
The Power Bank comes with multiple output ports to charge 2 device at a time.
It weight is 350 gms which is lighter than the Mi 20000mah power bank.
Compatible with all gadgets including smartphone, digital cameras, wireless headphones, tablets etc
PROS

👍
Value for Money – Cheapest
ABS plastic material – Strong & Durable
Dual output & input via Type C / Micro USB
CONS 👎
Ambrane 27000 mAh Power Bank
Another Power bank from India's 1st company to sell power bank which makes to our list of Best power bank in India 2020.
This power bank has 27000mah capacity Li-Polymer battery which is the highest in this list.
MAIN FEATURES
The power bank features dual input charging function one is TYPE C and Micro USB.
It comes with torch on the top end of the Power Bank.
LED charging indicator which show the battery status.
Premium quality rubberized matte finish which is easy to grip and durable.
Ultra fast two way quick charging thanks to Quick Charge 3.0 & Power Delivery (PD) Technology.
PROS 👍
TYPE C and Micro USB Charging option
27000mah capacity Li-Polymer battery
Comes with 1 year warranty
CONS 👎
Mi 10000mAH Power Bank 2 (Black)
To start with the list is a well known brand which doesn't requires an introduction. World's leading manufacturer of Smartphone and No.1 in India has entered into the market of mobile accessories.
As such is this Power Bank from Mi comes with advanced level of chipset with 9 layers of Protection.
MAIN FEATURES
The Power bank price under thousand rupees comes with a capacity of 10000 mAh capacity.
It supports 5V/2A, 9V/ 2A and 12V/1.5A charging outputs thereby ensures quick charging
The power bank has a premium look thanks to it's stylish aluminium casing.
The Power Bank features 2 way quick charge and universal compatibility with any device.
PROS 👍
Get's full charged in 4.5 Hrs
10000 mAh capacity Li-Polymer battery
Dual USB Output with smart charging
Black , Red, Blue color available
CONS 👎
6 month warranty
Philips 10000 mAh Power Bank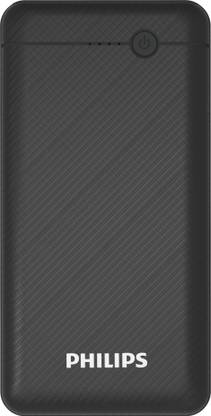 Philips is a world wide leader in provided quality electronic appliance which specialize on health equipment's, personal care & kitchen appliance, accessories etc.
Such a brand availability in this segment, makes people confident in their purchase.
MAIN FEATURES
Philips power bank features a 10000 mAh capacity which can easily charge 3 android phones.
Featuring multiple connection points 2 USB outputs, the Micro Input, and the Type-C Input.
The smart management system ensures that power is transferred evenly when connected to multiple device.
Light weight and compact size makes it pocket friendly.
In case if you are looking for a best branded power bank in India, than Philip is the brand you can back on.
PROS 👍
10000 mAh capacity Li-Polymer battery
Highly Efficient Polymer Cells
2 USB outputs, the Micro Input, and the Type-C Input
Smart Power Management
1 Year Warranty
CONS 👎
No Cons Noticed
Ambrane 15000 mAh Power Bank
Do you know that Ambrane was the 1st company to manufacture power bank in India? Ambrane has been giving tough competition to brands like, philips, Mi etc under this segment.
In case if you are looking for Best power bank in India under 1000 Rs budger, than Ambrane would not disappoint you
MAIN FEATURES
The Power Bank features 15000 mAh capacity, only one in the list.
Unique in design the Ambrane power bank comes with U shaped design which looks stylish.
The body of the power bank is coated with sort of rubber material which we feel will protect it from getting scratched.
Features like Dual Input Ports (Type C / Micro USB) & Dual USB out port makes it one of the preferred choice.
Overall at a budget under thousand rupees, this power bank provides value for money you spend.
PROS 👍
Stylish U shape design
15000 mAh capacity Li-Polymer battery
Dual Input Ports (Type C / Micro USB) & Dual USB out port
Value for Money
CONS 👎
Only 6 month warranty
Frequently Asked Questions
Q: Which Power bank is Best for iPhones in India?
A: You can go for trusted brands like Ambrane, Mi & Philips if you are looking for Best Power Bank for you iPhone.
Q: How know if the Power Bank is fast Charging?
A: Here is how you can identify if the Power bank is Fast Charging. See the specifications printed on power bank of package, just look for multiple outputs: 5V/1A, 5V/2.1A, 5.1V/2.4A, 9V/2A, or more.
Q: What to look for in a Power Bank?
A: First thing look for a good capacity battery in power bank anything like 10000 mAh is fine. When your buying a power bank go for Lithium Polymer power bank since they are light weigh and slime compared to Lithium-ion power bank of the same capacity which is an old technology. Look out for some additional features like LED Light, multiple outputs & Type C input and Micro USB charging.
Q: How to make power bank last longer?
A: Store power bank with at least keeping 40% charge in it. Don't expose the power bank to sunlight, it's better to store it in a room temperature. Avoid using the power bank when it's been put on charging. Use short and high quality cables for charging the Power Bank.
Conclusion
Above listed Power Banks are not positioned as per their Ranking.
They all are equally good when it comes to their performance and features.
It just that some have Brand Preference, some look for a budget Power Bank.
Capacity is another factor which differentiate these power bank within them.
Now it's your Turn.
Is there any of your Favorite Power Bank not mentioned in our Review.
Or you have any queries about the power bank listed here.
Do Let us know in the comment section below.
---
More Buyer Guides and Reviews