Best Bluetooth Earphones Under 1000 Rs for your Favorite Music
Best wireless earphones Buying Guide: Welcome to our round-up of the best bluetooth earphones under 1000 Rs you can buy in India.
Looking for Best wireless Earphones under 1000 Rs can be tough.
Since there are not that much options available under this budget.
It is a few wireless earphone which is currently available online.
In this guide we have listed Top Bluetooth earphones available under 1k Rs after lot of research and testing.
Why to buy a wireless earphone?
I prefer to use a Bluetooth earphone over wired earphone coz no worries of wire getting tangled.
Secondly can enjoy hands free calling experience.
However if you can raise your budget more than 1000 Rs
In my suggestion you would get good wireless earphone under 2000 Rs budget.
So without much ado, Let's help you choose the best bluetooth earphones under budget of 1000 Rs.
Best Bluetooth Earphones Under 1000 Rs in India
CHKOKKO Mercury M2 Plus Bluetooth Earphone
| | |
| --- | --- |
| PROS | CONS |
| IPX-7 Rated Waterproof | Carrying case is a bit big |
| Strong bass depth | |
| Best Value for money | |
| Long battery life | |
Features:
Chkokko mercury M2 Plus wireless earphone offers a comfortable and stable fit of the earphone on your ears.
This bluetooth earphone is suitable for Running, Jogging, Hiking, Biking, Gym etc.
You will get a carrying case which looks very stylish and of good quality.
Chkokko is IPX-7 Rated earphone which makes it waterproof.
The sound quality both highs & lows are crystal clear to your ears.
battery is impressive and lasts for about 7 hours.
The wire is flat and tangle free.
If you are looking for the Best Bluetooth earphone under 1000 Rs, than this wireless earphone will never disappoint you.
Mefun BN03 Below 1000 Rs Bluetooth earphone
| | |
| --- | --- |
| PROS | CONS |
| Longer Play Time and Battery Life | Don't expect best audio quality & bass in this budget |
| Anti-fallout and Sweat Proof | |
| Loud Clear Sound and Noise Isolating | |
| Magnetic and Dual Pairing | |
Features:
Mefun Bluetooth earphones makes in to our list of best Bluetooth earphones under 1000 Rs.
The Bluetooth earphone is compatible with all smartphones, and can be connected easily via Bluetooth.
The wireless earphone comes with magnetic design, which keeps the earphone intact while on move.
Durable design & comfortable earbuds ensures Earphone stays intact during sporting or at gym.
Mefun wireless earphone is sweat proof and can be connected to 2 device at a time.
Flipkart SmartBuy Bluetooth Earphone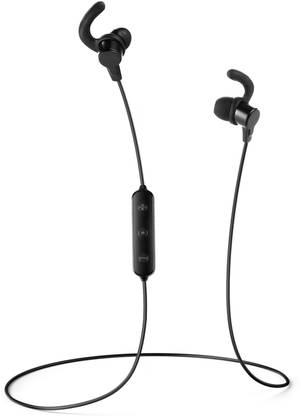 | | |
| --- | --- |
| PROS | CONS |
| Good sound quality | Connecting issue after crossing 5 feet |
| Decent bass | |
| Simple & comfortable to use | |
| Excellent battery backup | |
Features:
Flipkart brings to you exclusive Bluetooth Earphone well in your budget under 1000 Rs.
The Bluetooth earphone is compatible with any smartphone to be connected via Bluetooth.
It comes with Microphone to connect wireless, with buttons to adjust the volume and play the music.
This Bluetooth earphone is sweat proof, the deep bass effect of the earphone is a steal in this price.
Xmate Mana Bluetooth Headphones
PROS
CONS
High Definition Stereo Sound
Support & service centres are difficult to reach out
Dust & Water Resistant
Battery up to 6-7 hrs playing time & 100 hrs stand-by
Fit's very comfortably & Light-weighted
Xmate is Flexible sport wireless earphone which is available under 1000 Rs budget.
The earphone has an amazing talk time of 6 to 7 hours with a standby time of 100 hrs.
It is light in weight and easily fits in ear coz of its Ergonomic design
Xmate Mana Earphone is IPX6 certified for Water resistant & IP6X certified for dust proof.
Audio quality is excellent with High definition stereo sound.
G-Cord Bluetooth Wireless Earphones
| | |
| --- | --- |
| PROS | CONS |
| Impressive build quality | Not for music lovers, Only for call purpose |
| Average bass & treble | |
| Light in weight & comfortable Long use | |
| Excellent battery & quick charging | |
Features:
G Cord we will recommend for those your are looking for best bluetooth earphone under 1000 Rs for calling purpose.
The headphone is light weighted and connects well with mobile, laptop and Tablets.
The Bluetooth earphone has excellent noise cancellation feature delivers descent bass & treble.
The design of the Bluetooth earphone is impressive which makes it a contender for best wireless earphone under 1000 Rs.
The battery is impressive which gives a talk time of 6 hrs and standby time of 180 hrs.
Red Lemon Dhoom D110 Sports Bluetooth Earphone
| | |
| --- | --- |
| PROS | CONS |
| BLUETOOTH v5.0 for better connectivity | |
| Notifies with Vibration | |
| Advanced Qualcomm CSR8640 chipset | |
| Long battery life | |
| Value for Money | |
Features:
Like the name suggest this Bluetooth earphone allows user to listen to music while doing sports activities.
It has an incredible battery backup which last for 200 hrs when on standby mode and 8 hrs of talk time.
Enjoy excellent audio quality with powerful highs and clear lows.
The earphone is Sweat and Splash Proof (IPX5) which sustain light rains and sweats at gym.
In case if you are looking for a sporty Bluetooth earphone under 1000 Rupees, than Red Lemon is an option you can try for.
XaudiO Boom Bluetooth Earphone
Features:
XaudiO Bluetooth earphone is designed with dual driver technology to deliver deep bass, superb clarity, and crisp detailing.
IPX5 Waterproof and Sweat-proof feature keeps you worry free while using in sweaty condition or while in drizzle rain.
The Bluetooth earphone offer promise with it's good bass, sound clarity due to dual drivers and excellent battery life.
Built in buttons of XaudiO Bluetooth earphone makes it damn easy to control playback and volume.
Have to say that both Highs and lows are decent and quite enjoyable.
Specifications:
| | |
| --- | --- |
| | Bluetooth |
| | 1.5 hr |
| | 6 hr |
| | 1 Year |
| | 10 meters |
| | 110 hr |
User Review:
Smazing® Wireless Bluetooth Earphones
Features:
This Bluetooth earphone comes with Comfortable ergonomic design making it comfortable to use.
Smazing Bluetooth earphone is Compatible with mobile, laptops & Tablets.
Noise cancellation feature helps you to experience excellent sound quality.
The simple clip which comes with it allows to keep the earphone intact while biking, running, driving and exercising.
Specifications:
| | |
| --- | --- |
| | Bluetooth |
| | 1.5 hr |
| | 7 hr |
| | 3 months |
| | 10 meters |
| | 100 hr |
What Do You Think?
I'd love to hear what you think about the list of Best Bluetooth earphones under 1000 Rs.
Specifically, I'd like to know:
Also, I plan on adding more wireless earphones on the list soon.
So let me know if you have any suggestion that you want me to mention.